---
【Brief description】Driven by the "XEV+ICV" dual-core development strategy, the GAC Aion E9 serves as a pioneer. With superior smart electric vehicle technology and an efficient service system, GAC Motor is fully committed to transforming into a new energy enterprise and actively contributing to the realization of the "dual carbon" goals through concrete actions.
"In the context of 'dual carbon' goals, the development of new energy vehicles has been advancing rapidly and has become the preferred choice for many consumers. Almost every car manufacturer claims to be low-carbon and energy-efficient, but there has been a lack of authoritative evaluation institutions and unified evaluation standards.
To address this issue, China Automotive Technology and Research Center Co., Ltd. officially established China Automotive Carbon (Beijing) Digital Technology Co., Ltd. in February this year. They have launched the world's first Carbon Footprint Information Disclosure Platform (CPP) for the entire automotive industry chain. With comprehensive industry data resources as the underlying support, the platform covers carbon system data for the entire industry chain, including complete vehicles, components, and automotive materials. The aim is to make carbon emissions data transparent, highlight low-carbon vehicle models, and enable consumers to truly identify which products are genuinely low-carbon and energy-efficient.
On June 19th, the "2023 Annual Achievement Sharing Conference of Automotive Industry Energy Conservation and Green Development Evaluation Center," organized by China Automotive Carbon (Beijing) Digital Technology Co., Ltd., was successfully held in Beijing. The event unveiled the carbon footprint data of nearly 1400 vehicle models based on the CPP platform. Among them, the GAC Aion E9, an electric vehicle, achieved the lowest carbon emissions level in its class, surpassing the industry average by 16.9%. It was awarded the "C-Class Plug-in Hybrid MPV Champion" and recognized as the "2023 Leading Low-Carbon Vehicle Model in China."
Currently, the China Automotive Carbon Disclosure Platform (CPP) has been made available to government departments, research institutions, universities, financial institutions, media, and other entities. It has publicly disclosed carbon footprint information for 23 automotive companies and nearly 1400 vehicle models.
To help consumers better identify low-carbon vehicles and promote low-carbon green consumption, the CPP platform analyzes the carbon footprint data of different vehicle models and identifies low-carbon models. The models with the lowest carbon footprint in their respective categories are recognized as "Leading Low-Carbon Vehicle Models."
Taking the "C-Class Plug-in Hybrid MPV" category as an example, among the 11 different models from 3 vehicle series, the GAC Aion E9 stands out in terms of battery, motor, and electronic control. It features a core patented electromechanical coupling system, magazine battery, and intelligent energy management system. The carbon footprint of the entire vehicle is 246.13 grams of carbon dioxide equivalent per kilometer (gCO2e/km), compared to an industry average of 296.02 gCO2e/km, representing a 16.9% reduction compared to the industry average.
Based on the conversion rate of emitting 0.272 kg of carbon dioxide per kilowatt-hour of electricity consumed, the GAC Aion E9's carbon footprint per kilometer is less than 1 kilowatt-hour of electricity, resulting in nearly a 20% electricity savings compared to the industry average.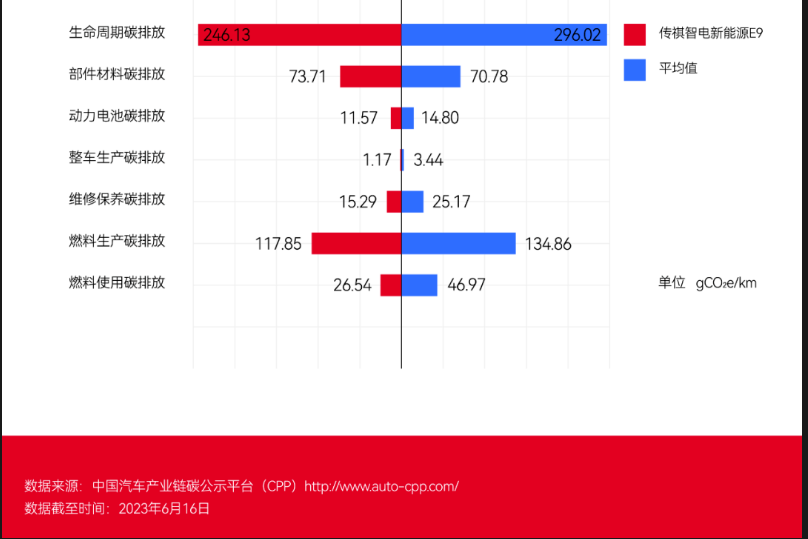 When examining the different lifecycle stages, the GAC Aion E9's power battery has a carbon emissions level of 11.57 gCO2e/km, production emits 1.17 gCO2e/km, maintenance and repair contribute 15.29 gCO2e/km, fuel production accounts for 117.85 gCO2e/km, and fuel usage during the operational phase results in 26.54 gCO2e/km. Across the entire vehicle lifecycle, including power battery, vehicle production, maintenance and repair, and fuel production and usage, the carbon emissions of the GAC Aion E9 are lower than the industry average and the lowest in its class. With its outstanding performance, it truly deserves the title of "Leading Low-Carbon Vehicle Model."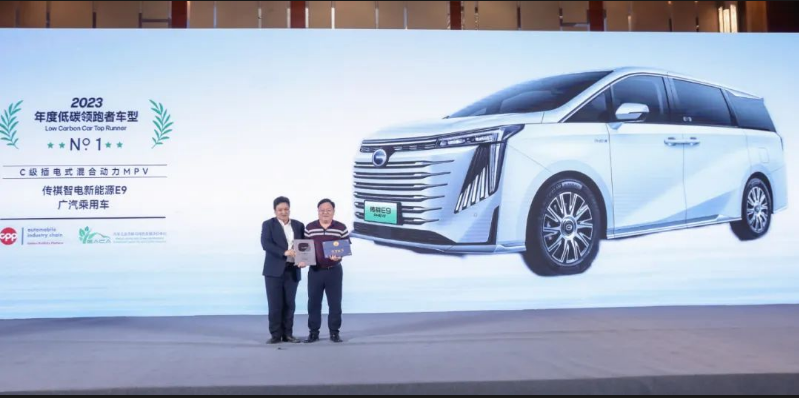 The recognition of the GAC Aion E9 as the "Leading Low-Carbon Vehicle Model of 2023" is attributed to GAC Motor's long-standing commitment to an "ecologically prioritized" sustainable development strategy.
Since its launch at the Great Hall of the People on May 21st, the GAC Aion E9 has garnered significant attention. With its differentiating advantages of "Peace, Power, Intelligence, and Range," it offers consumers a superior driving experience characterized by comfort, ample power, luxury, intelligence, long-range capability, and low energy consumption.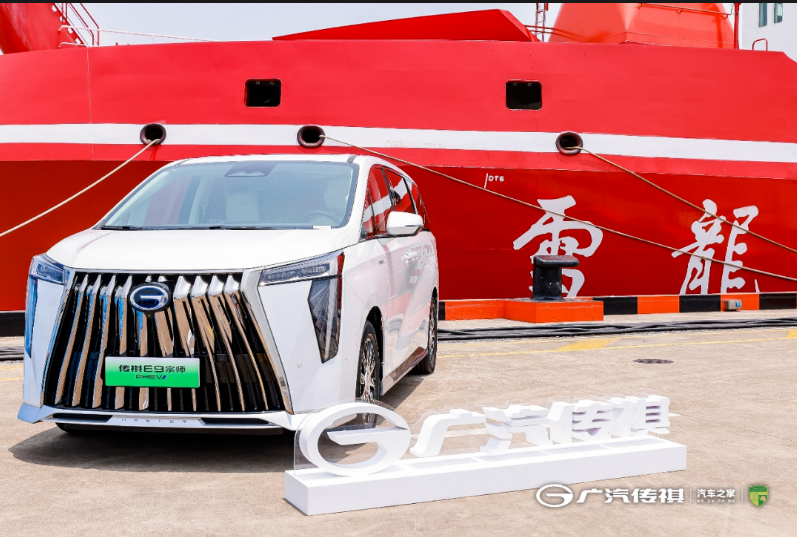 It is worth mentioning that the GAC Aion E9 was recently awarded the title of "Selected Product for China's Polar Expeditions" by the Chinese Arctic and Antarctic Administration. On June 14th, it embarked on a journey to the Arctic aboard the Chinese icebreaker "Xuelong" (Snow Dragon), marking the beginning of the "Aion in the Arctic" expedition.
Regarding this, Chen Nan, the Director of the Logistics Department at the Chinese Arctic and Antarctic Administration, stated that the selection of the GAC Aion E9 was based on its exceptional safety, driving performance, intelligence, and long-range capability, as well as its low-carbon and environmentally friendly characteristics. The GAC Aion E9 represents the progress of Chinese technology, the development of Chinese manufacturing, and the strength of domestic brands.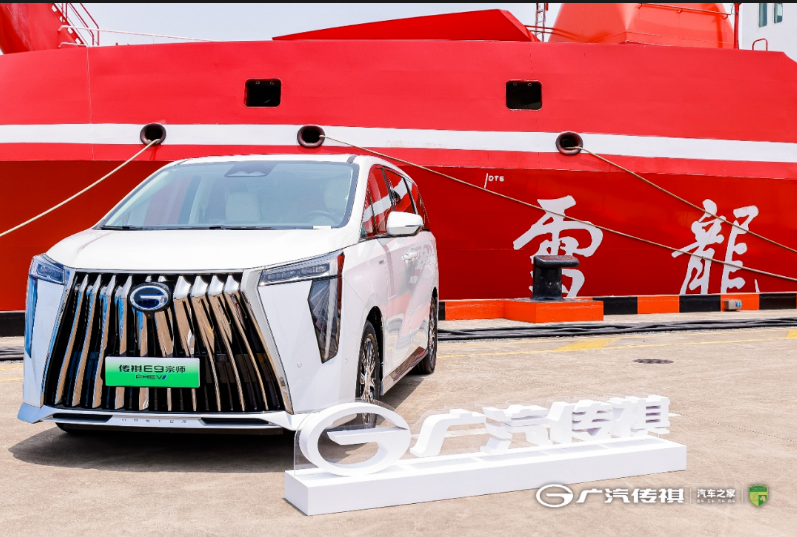 As widely known, the battery, motor, and electronic control are collectively referred to as the core components of new energy vehicles, and they are commonly known as the "three electric" technologies. Among them, the battery, as the power source, is considered the most crucial system in the vehicle. It is not only the "heart" of new energy vehicles but also the main force behind achieving energy-saving and emission reduction goals.
In this regard, the GAC Aion E9 relies on China's most advanced "three electric" technology. It utilizes GAC's self-developed magazine battery technology, which consists of low-voltage and high-voltage NCM613 ternary materials. Through nanoscale multilayer coating and doping, the energy density of the battery is increased by 15%, thermal management efficiency is improved by 10%, and performance and lifespan are enhanced by over 30%. Moreover, it can operate in an extremely wide temperature range from -30°C to 60°C, making it suitable for demanding conditions, even in polar regions.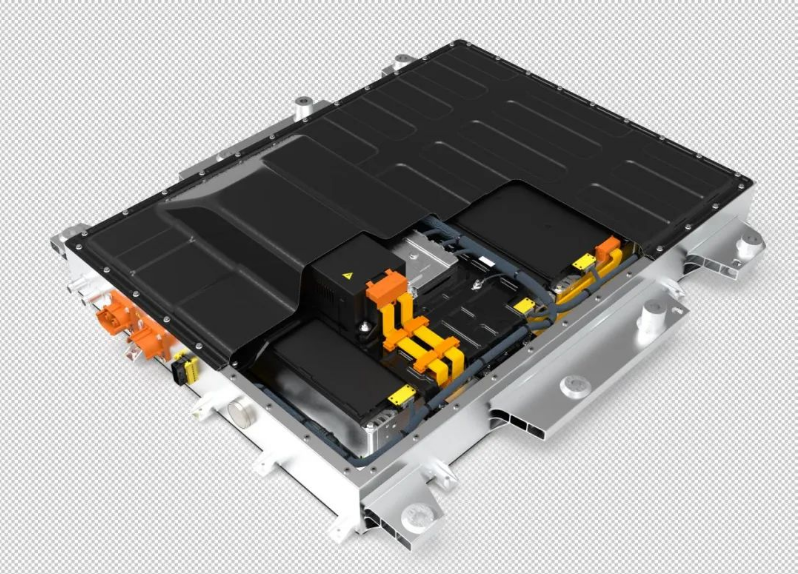 It is worth mentioning that considering consumers' concerns about the safety of new energy vehicle batteries, the magazine battery used in the GAC Aion E9 is equipped with a 5-layer safety protection system. It has undergone a series of extreme challenges, including puncture, compression, and thermal runaway tests. Even under the dangerous condition of "thermal diffusion," it can operate for 24 hours without any open flames or smoke, far exceeding the requirement of the national standard that states no ignition should occur within 5 minutes of thermal diffusion.
Furthermore, this magazine battery can withstand more than twice the required compression force specified by the national standard (over 20 tons of compression force) without any smoke or fire. With higher battery safety standards, it provides consumers with a secure and reliable driving experience in their smart electric journeys.
In addition, the GAC Aion E9 adheres to the philosophy of "Customer First, Safety First" in car manufacturing. It adopts a battery-central layout, placing the battery further away from the threshold, which enhances the safety of the vehicle in the event of a collision. The centralized positioning of the vehicle's center of gravity improves handling and stability during high-speed cornering. Additionally, it is equipped with unique rear window airbags, the industry's longest 3.2m integrated side curtain airbags, and standard front and second-row airbags, forming a 360° comprehensive safety airbag matrix that provides users with ample safety assurance.
Thanks to its core patented electromechanical coupling system, the GAC Aion E9 offers three major driving modes: intelligent hybrid, power reserve priority, and pure electric priority. In high-energy consumption scenarios, it prioritizes the pure electric mode for efficient energy recovery. Even in hybrid mode, the fuel consumption is as low as 6.05L/100km.
Under the more realistic WLTC driving cycle, the GAC Aion E9 achieves a class-leading comprehensive range of 1032 km and an extraordinary range of 1442 km under extreme conditions.
Furthermore, based on the GAC Aion E9's 14-degree intelligent power reserve technology, it supports fast/slow charging, 3.3 kW power output, and even vehicle-to-vehicle (V2V) charging functionality. It can be considered a true "mobile power bank" for charging other vehicles.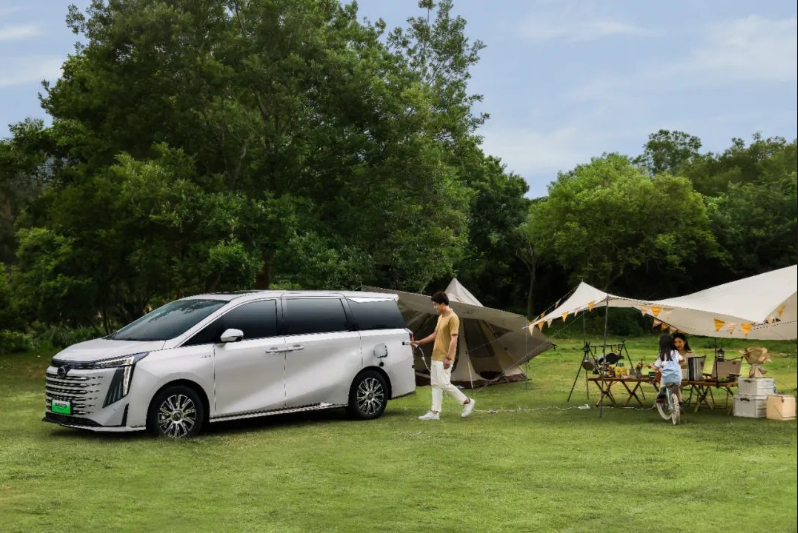 In the era of "dual carbon," the commitment to low-carbon is not just empty words. As part of the Chinese automotive industry, GAC Motor is dedicated to promoting green and low-carbon development.
Xiamen Double Imp. & Exp. Co.,Ltd are supplying all kinds of parts for GAC vehicles,if you have any demand,pls contact us. We will provide the part price and lead time for your references.
---